Protec Traction Chair at Synergy Chiropractic & Wellness Center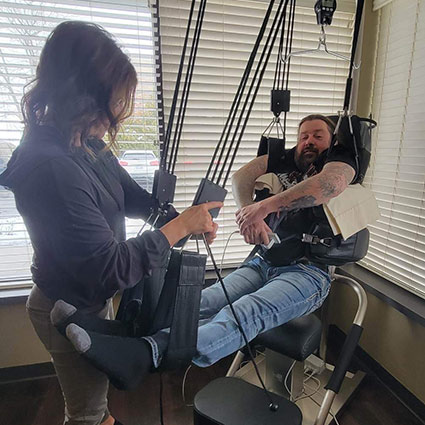 At Synergy Chiropractic & Wellness Center, we're proud to offer the Protec Traction Chair to meet various health needs. This comfortable therapy provides effective relief for patients with herniated discs, scoliosis, tight IT bands, and tight hamstrings.
Movement and wellness go hand-in-hand. We help you stretch and move the way your body needs to, improving your range of motion and giving your body the flexibility it needs to find its way back to a full expression of health.
Benefits of Traction
Our advanced traction system, known as Floating Manipulative Therapy, provides dynamic health benefits by reducing the pressure between discs in your vertebrae. We use the chair to lift and suspend your upper body, reducing the pressure of gravity so we can work with your body in a weightless state.
Dr. Will then performs various types of movement therapy for your low back, hips, and legs. We'll focus on targeted stretches specific to your condition to achieve surprisingly powerful results.
This therapeutic approach is safe and effective for non-specific low-back conditions, including spondylolisthesis, central canal stenosis, osteoporosis, and instrumented hardware or body fusion.
What to Expect
You don't need to do anything to prepare for your first session—just come as you are! When you get here, we'll have you remove your shoes and sit down in the chair. Picture being buckled into a carnival ride. We'll securely strap in your arms and legs so your entire body can be dropped by gravity.
After that, we'll stretch out your hamstrings and IT bands, creating more movement in the spine. This technique allows herniated discs to slowly return to their proper position, while releasing tight muscles and improving your range of motion. Patients who couldn't touch their toes when they came in leave being able to put their hands on the floor.
We offer both cervical and lumbar traction chairs. This service takes 15 minutes and costs $45. Many patients loosen up with Floating Manipulative Therapy before getting an adjustment.
Book Today
We can't wait to help you recover your health naturally. Schedule your visit now. We can't wait to welcome you into our practice.
---
Protec Traction Chair Greenville, Appleton and Hortonville WI | (920) 757-6440